Plug for removal of intake valves for BMW N47 engines
This kit specially developed for the last generations of BMW N47 diesel engines. Allows you to remove the slaps and towels from its housing and to butcher the hole left by this removal. Perfectly waterproof, this ALUMINIUM kit is clipped according to the included use mode. French manufacturing.
Notify the engine break.
Attention, the Victor Reinz manifold joints are only included if you choose the option using the drop-down strip.
Your intake manifold has reference 11618507240
Example of compatibility:
Motorizations 115cv
BMW Series 1 E81 and E87 (116d)
BMW 3 Series E90 (316d)
Motorizations 143cv
BMW Series 1 E81, E82, E87 and E88 (118d)
BMW Series 1 F20 (118d)
BMW 3 Series E90 and E91 (318d)
BMW 3 Series F30 and F31 (318d)
BMW X1 E84 sDrive and xDrive (18d)
BMW X3 E83 xDrive (18d).
MINI Countryman Cooper SD (R60)
MINI Cooper SD (R56)
MINI Cabrio Cooper SD (R57)
MINI Cooper SD Cup (R58)
MINI Roadster Cooper SD (R59)
MINI Paceman Cooper SD (R61)
Motorizations 163cv
BMW 3 Series E90 (320d) Efficient Dynamics
Motorizations 177cv or 184cv
BMW Series 1 E81/E82/E87/E88 (120d)
BMW 3 Series E90/E91/E92/E93 (320d)
BMW Serie 5 E60 and E61 (520d)
BMW X1 E84 sDrive20d, xDrive20d
BMW X3 E83 xDrive20d.
Twin turbo
BMW 5 Series E60 (535d) 204cv.
BMW Series 1 E81/E82/E87/E88 (123d)
BMW X1 E84 xDrive (23d)
More information from customer service
This product is guaranteed for two years!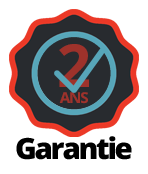 Informations sur le fabricant
Find all my useful tips :
A reactive customer service that listens to you when you need it!
Quality products at your fingertips!
Dynaparts is a French company created in 2011 specialized in car parts for competition. It is also a team of 4 people trained to your service, as well in customer advice as in web design or logistics. Dynaparts.fr offers an online product catalog of more than 90,000 references, a solid partnership with more than 50 renowned brands in the world of car racing and a network of more than 1000 professional customers. We offer import solutions from all over the world (USA, UK, Europe, Japan), a storage area and logistics with the biggest brands through our Bordeaux warehouse.